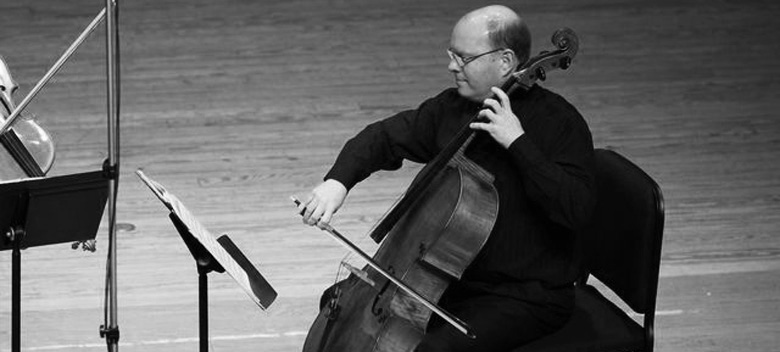 "…Mermagen explored the virtues of rock-solid intonation allied to almost indecently sensuous phrasing." —Laurence Vittes, Los Angeles Times
About cellist Michael Mermagen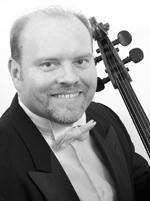 MICHAEL MERMAGEN
MICHAEL MERMAGEN cello (M.M. The Juilliard School, B.M. The Peabody Conservatory of Music) is associate professor of cello and chamber music, and faculty adviser in orchestral instruments for bachelor's and master's degree students at Benjamin T. Rome School of Music at The Catholic University of America.
He made his debut at the age of sixteen with Baltimore Symphony Orchestra after receiving its Young Soloist's Award. Michael began his studies at Peabody Preparatory where he studied with Paula Skolnick-Childress and Mihaly Virizlay. Principal teachers in college were Stephen Kates at Peabody Conservatory, and Zara Nelsova at The Juilliard School. As The Juilliard School's concerto competition winner, he performed with Juilliard Orchestra under Otto-Werner Mueller in Alice Tully Hall. He was soloist with National Orchestra of New York, where he held the prestigious Emanuel Feuermann principal cello chair and performed in Violoncello Society of New York Master Classes lead by Yo-Yo Ma, Janos Starker, and Bernard Greenhouse.
He toured regularly with The Aspen Ensemble. He also toured with American Chamber Players from 1997 to 2003 and from 1987 to 1995 with Arista Piano Trio, (named Chamber Music America's Artists to Watch). He collaborated with the San Francisco Ballet and was featured as the cello soloist for the New York premiere of two works by the renowned choreographer Mark Morris. He joined violinist Jody Gatwood and pianist Marilyn Neeley in Rome Trio, a resident ensemble of The Catholic University of America.
He is a faculty member at Aspen Music Festival and School and has held the position of principal cellist of the Aspen Chamber Symphony for the past 18 seasons. He has performed chamber music in Aspen with such artists as Joshua Bell, Sarah Chang, Lynn Harrell, Robert McDuffie, Susanne Mentzer, Nadja Salerno-Sonnenberg, and The Takács Quartet; collaborated with distinguished conductors: Comissiona, Conlon, Levine, Maazel, Marriner, McGegan, Robertson, Skrowaczewski, and Zinman.
He has given numerous recitals and masterclasses across North America, Europe and Asia. He participated in Grand Canyon Music Festival, Prince Albert Music Festival in Kauai, and Bay Chamber Concerts in Rockport, Maine, and has been heard on WQXR's Concerts Plus, WNYC's Around New York, and regularly on NPR's Performance Today. Mr. Mermagen performed live with Musica Sacra on A Prairie Home Companion with Garrison Keillor and performed as a substitute cellist in New York Philharmonic, Buffalo Philharmonic, New York City Ballet, Orchestra of Saint Lukes, 92nd Street Y Orchestra, Philharmonia Virtuosi of New York, American Symphony Orchestra, Brooklyn Philharmonic, and Long Island Philharmonic. He recorded Patrick Zimmerli piano trios, for Arabesque label, after a celebrated debut of the same pieces at Seattle Chamber Music Society. Recent appearances include the performance of Brahms Double Concerto with violinist Livia Sohn and Stockton Symphony, and Beethoven Triple Concerto with Elisabeth Adkins and Edward Newman and Fairfax Symphony. He performs on a Nicolo Gagliano cello, Naples, 1774.