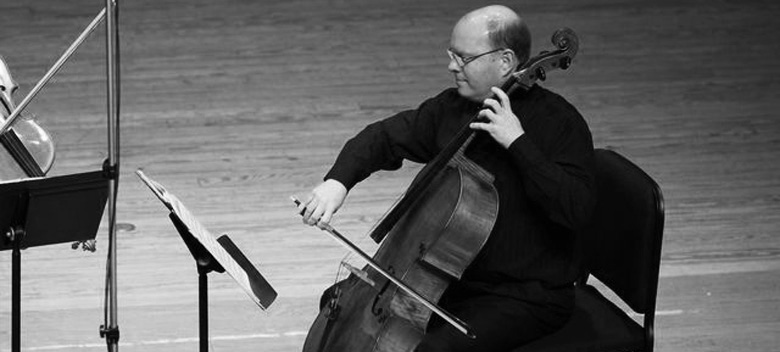 "…Mermagen explored the virtues of rock-solid intonation allied to almost indecently sensuous phrasing." —Laurence Vittes, Los Angeles Times
About cellist Michael Mermagen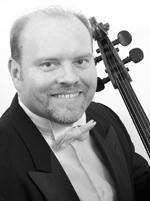 MICHAEL MERMAGEN
Cellist MICHAEL MERMAGEN is Associate Professor of Cello at University of Missouri Kansas City Conservatory of Music and Dance. For more than 25 years he has served as Artist/Faculty and Chamber Symphony Principal Cellist of the Aspen Music Festival and School. He was formerly Associate Professor of Cello and Chamber Music, Head of the Instrumental Division, and Adviser in Orchestral Instruments for the Bachelor and Master of Music Degrees at the Benjamin T. Rome School of Music at The Catholic University of America.
Mr. Mermagen made his debut at the age of sixteen with Baltimore Symphony Orchestra after receiving its Young Soloist's Award. He began his studies at Peabody Preparatory where he studied with Paula Skolnick-Childress and Mihaly Virizlay. Principal teachers in college were Stephen Kates at Peabody Conservatory (Bachelor of Music), and Zara Nelsova at The Juilliard School (Master of Music). As The Juilliard School's concerto competition winner, he performed with Juilliard Orchestra under Otto-Werner Mueller in Alice Tully Hall. He was soloist with the National Orchestra of New York, where he held the prestigious Emanuel Feuermann principal cello chair, and performed in Violoncello Society of New York master classes lead by Yo-Yo Ma, Janos Starker, and Bernard Greenhouse.
Mr. Mermagen has toured regularly with The Aspen Ensemble, the American Chamber Players (1997 to 2003) and with Arista Piano Trio (1987 to 1995), named Chamber Music America's Artists to Watch. He collaborated with the San Francisco Ballet and was featured as the cello soloist for the New York premiere of two works by the renowned choreographer Mark Morris. He joined violinist Jody Gatwood and pianist Marilyn Neeley in Rome Trio, a resident ensemble of The Catholic University of America. Mr. Mermagen currently performs throughout the country with the Aspen String Trio, formerly the ensemble in residence at the University of Baltimore.