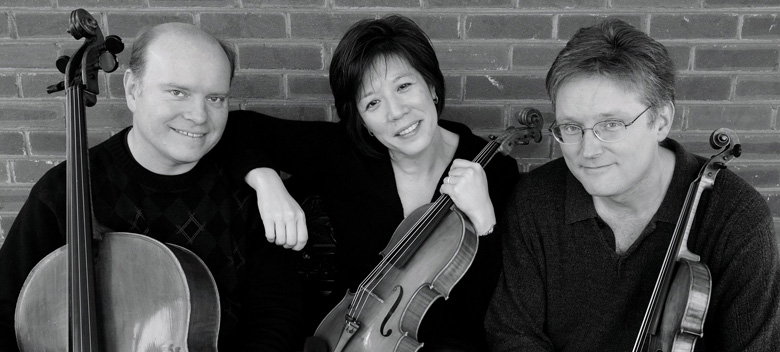 Press
MUSICAL NOTES: Guild Manufactures Miraculous Music
November 24, 2014
By Jim Ruggirello, Music columnist
original link
Do you believe in miracles?
I do, because I heard one the other night at the Music Guild concert at Daniel Recital Hall.
The Aspen String Trio played Mozart's Divertimento in E-flat, K. 563, and the piece is nothing short of miraculous. The composer was at the height of his considerable powers when he wrote it, and that is saying a lot. Somehow three solo string instruments manage to create a full texture, without a piano to assist or a second violin to fill in the gaps. Mozart's mastery of melody, counterpoint and instrumentation sustains this remarkable work over six movements of varying complexity and mood.
This piece is a triumph of the Classical style, and the Aspen's performance was equally triumphant. Michael Mermagen's cello provided a bright, strong foundation, David Perry's violin soared, and Victoria Chiang's characterful contributions on viola were delightful. All three were in perfect balance, sometimes in dialogue, other times in unified expression. Whatever challenges the Mozart presented in terms of technique or interpretation were executed with seeming ease.
Mozart's Divertimento is endlessly inventive and radiates positive energy. It is chamber music at its best, something that could also be said of the Music Guild series as a whole.
The first half of the concert featured early Beethoven. Here the three instruments were perhaps not so perfectly balanced; while marveling at Mermagen's playing and enjoying Perry's performances very much, I found myself wanting a stronger presence from Chiang on viola. The second of the Op. 9 string trios received an impressive performance nonetheless.
Amazingly enough, Beethoven wrote his Piano Quartet No. 3 when he was only 15. The piece shows only a few flashes of the composer's genius, but is well-crafted and pleasing throughout.
Micah Yui is a dazzling pianist, to the point that her playing overshadowed that of the strings. The recital hall's Steinway is full, rich and warm, the playing of the Aspen leaner and more incisive. The pianos of Beethoven's era had a thinner sound, and that sort of balance is undoubtedly what the composer had in mind.
Reservations aside, Yui's playing was marvelous, as musical and stylish as one could wish for. And her fantastic fingers brought the end of the finale to a breathtaking finish.
There are four concerts remaining on The Music Guild's series, and the next one is in February. The four are being packaged at a reduced subscription price, and are well worth investigating. Not all are as conservatively programmed as was this past one. I see works by Janacek, Frank Martin and Aaron Copland coming up. Call (310) 558-3500 or click on www.themusicguild.org for more information.
More miracles await.